REVIEWS – Byron Hill Red Leather Couch CD (2014)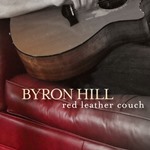 MUSIC ROW MAGAZINE
– by Robert K. Oermann
The title tune of hit songwriter Hill's new, 15-track showcase has an easy-going, loping tempo with a "beach-y" vibe. It's a charming ode to loafing, creating, thinking, sleeping, relaxing and having fun on a well-worn item of living-room furniture. Listening to this record might make you fall in love with Music Row song craftsmanship all over again.
TAMMI ARENDER
– RDT-TV
He's had songs recorded by everybody from George Strait to Sammy Kershaw to Ray Charles. His new CD 'Red Leather Couch' is crazy good.
WILLIAM F. WILLIAMS
– Former KRLA radio personality, and artist manager.
Love 'Red Leather Couch'. Track one….love the song and the track cooks…killer players…and singing better than ever. No faking country here, no 'how to sing country' bullshit affectations, just straight ahead singing. My favorite is 'IT'S JUST A SONG'. Killer. The groove that sticks in my head is 'LOVE IS NOT A CRIME'…..Great job.
COUNTRY ENTERTAINMENT USA
– by Brenda L. Madden
Hit Nashville songwriter, Byron Hill, not only shows off his songwriting prowess on this 15-song CD entitled Red Leather Couch, but his vocal performance is exceptional as well. He vocally interprets each song with ease and confidence. From the opening song "Can't Think Of Nothing But You" to the last "Long Fade," his artistry comes to life…
---
REVIEWS – Byron Hill Radio Songs CD (2011)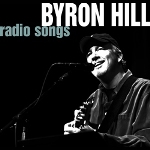 MUSIC ROW MAGAZINE
– by Robert K. Oermann
Writer: Byron Hill/Blake Mevis; Producer: Mike Poston & Byron Hill; Publisher: Sony-ATV Tunes/Make Believus, ASCAP; BHP (track). Perennial Music Row hit writer Hill has a new CD called Radio Songs that is packed with smashes. The renditions are acoustic, simple and honest. This 1982 George Strait hit is just one example of this songwriter's craftsmanship. It is also a reminder how many decades Byron's career spans. These songs were originally popularized by everyone from stars past such as Ed Bruce ("Nights") and Alabama ("Born Country") up to today's Joe Nichols ("Size Matters") and Gary Allan ("Nothing on But the Radio"). Impressive, as well as highly listenable.
COUNTRY MUSIC NEWS
by Larry DeLaney
It is always interesting to hear a 'hit' song performed by the writer of the song. The 'writer' sings them the way they were first intended, often done from a different perspective with tiny nuances that differ from the 'hit' version. Nashville songwriter Byron Hill has enjoyed a lengthy career of writing the 'hits'…here he sings them, accompanied only by acoustic guitar arrangements. These bare-bones renditions provide a personal and sensitive variation…and makes for a great listen. High on the Byron Hill hit song list are tunes like Fool Hearted Memory (recorded by George Strait), Pickin' Up Strangers (a hit by Johnny Lee), Born Country (a hit by Alabama, and also recorded by Canadian artist Ian Eaton), High-Tech Redneck (the George Jones hit), Out Of Your Mind (a hit by Joe Sun), and Nothing On But The Radio (a hit by Gary Allan).  The songlist also includes Byron Hill's versions of Nights (Ed Bruce), Size Matters (Joe Nichols), Politics, Religion And Her (Sammy Kershaw), The Pages Of My Mind (Ray Charles), Alright Already (Larry Stewart), Lifestyles Of The Not So Rich And Famous (Tracy Byrd), If I Was A Drinkin' Man (Neal McCoy)… and a Canadian connection in Over You, a hit recorded by Anne Murray. In addition to his many years of creating some of Nashville's biggest hits, Byron Hill has also played a key role on the Canadian scene, penning countless hit tunes recorded by Canadian country artists, and more recently producing hit albums for Canadian stars Gord Bamford and Hey Romeo. His work with Gord Bamford has earned Byron Hill the distinction of twice being named Producer Of The Year, by the Canadian Country Music Association.
KINGSTOWN RADIO (UK)
by Tom Robinson
Once I'd started playing this album I just had to leave it playing through to the last note, a superb collection of excellent stories in music. Byron is one of the finest songwriters about real life situations that only come along once in a lifetime. Brilliant well thought out real stories, plenty of feeling and emotion in the singing that draws you to each word and moment. I for one, would enjoy going to a live performance from Byron, listening to this selection had me hanging on the edge of my seat  wanting more as each track closed. Enthralling and captivating music at its best. Excellent and thoroughly enjoyable listening album, I know, I will be turning to it and playing the songs regularly. Album of the week (June 18th 2011) and I am positive it will turn up again in the not too distant future.  Overall rating:  Excellent.
NASHVILLE MUSIC GUIDE
May 2011
Hit songwriter Byron Hill has a new album out called Radio Songs, which highlights his stellar career of songwriting through the years. These acoustic, raw, stripped down versions of Hill's original songs reflect the intricate and well crafted writing/musicianship that has sustained his long and illustrious career. All of the songs on this album were originally made popular by artists such as Alabama ("Born Country"), Joe Nichols ("Size Matters"), George Strait ("Fool Hearted Memory"), and many more.  Listening to this album all the way through, you see the longevity in Hill's writing from the 1970s up until today.  Incredible songs by an incredible songwriter; this is a must get album.
COUNTRY MUSIC & DANCE IN SCOTLAND (Ireland) MAGAZINE
by Stewart Fenwick, August/September, 2011
North Carolinian Byron Hill is one of Nashville's most accomplished songwriters currently, and he gives the original versions of some of the hits he's written on the 14 track "Radio Songs" CD (BHP Recordings). You'll find songs Byron has written for the likes of George Strait, Johnny Lee, Ray Charles, Anne Murray, and Tracy Byrd. The songs are given an authentic simple acoustic treatment, just as you would imagine a songwriter demo-ing. The songs, including "Pickin' Up Strangers", "Fool Hearted Memory", "Lifestyles Of The Not So Rich And Famous" and "Nothing On But The Radio", were recorded over a two year period. It's a nice collection of songs, done just a bit differently from the versions we're used to.
FLYINSHOES REVIEW
by Maurice Hope, July 8, 2011, http://flyinshoes.ning.com/
Nashville songwriter Byron Hill and as is the case here, occasional recording act has enjoyed great success via covers by everyone from Georges Jones and Strait to Ray Charles by way of newer country acts Joe Nichols and Gary Allan plus Canadian songbird Anne Murray and countless others. As a vocalist his voice has a warmth and smooth timbre that I enjoy, unreservedly. No matter the tempo or mood the song may posses and he varies it considerably. In some ways his music reminds me of the late Dan Seals when he played acoustic, plus one or two more who's names escape at this moment in time. This matters not one iota for Byron Hill is the person (apologies to Strait and co) I would most like to hear sing them when I take off to my desert island!
I so love the intimacy of the record and with them all commercial in length radio friendly singles; apart from "Out Of Your Mind' (Joe Sun in 1979) and 'The Pages Of My Mind' (Ray Charles) they are all in and around the three-minute mark and perfect in and out done and dusted story songs. Even then four minutes see the story told and wrapped without either over staying their welcome. Easy on the ear and never dragging Hill's tones coupled with strong lyrics make this 14-track album a wonderful affair . Making it head and shoulders above the crowd. Among the outstanding cuts we have 'Politics, Religion And Her', 'Fool Hearted Memory' jaunty ode 'Lifestyles Of The Not So Rich And Famous' and the sombre 'If I Was A Drinkin' Man' plus from more recent times the typically punchy 'Size Matters' (Nichols, 2005). But then again, every one is a winner and like the acts that have enjoyed success with his songs I too am grateful for his work and now even more so on hearing him record the songs in such a wonderful intimate fashion. It is like he had invited into his home to hear such delights as 'Pickin' Up Strangers'. From being but strangers once you have listened to the album a time or two you too will be on first name terms with Byron.
---
REVIEWS – Byron Hill Stay A While CD (2009)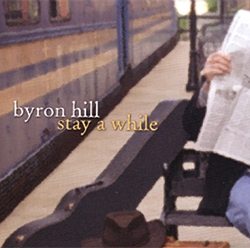 MUSIC ROW MAGAZINE
– by Robert K. Oermann, Feb. 13, 2009
Writer: Byron Hill/Jennifer Schott; Producer: Byron Hill; Publisher: Byron Hill/Sony-ATV Tree, ASCAP/BMI; BHP (track)
I love Nashville songwriter albums. Byron's is a 12-tune dandy showcasing his burnished baritone in wonderfully produced tracks. The title tune is a gentle, winning, mid-tempo invitation to romance that's as warm as a hearth. Over the years, he's won 10 ASCAP Awards and had more than 575 cuts. "Fool Hearted Memory," "Nothing On But The Radio," "Pickin' Up Strangers," "Lifestyles Of The Not So Rich And Famous," "Born Country" and "Size Matters" are all in his vast catalog. So the man knows what he's doing. Highly recommended.
PERFORMING SONGWRITER MAGAZINE
– by Caroline Davis, May 2009, Volume 16, Issue 117
DIY artist Byron Hill celebrates 30 years as a songwriter with Stay A While, a warm collection that includes engaging reminisces about the early days ("Blame It On Kristofferson", "You Ain't Chet Yet") and gentle love songs (the snappy "More Where That Came From" is my favorite). Even after nearly 600 recorded songs and dozens of awards, it's clear that a grateful Hill is still as excited about creating music as when he rolled into Nashville, in a borrowed car, all those years ago.
COUNTRY MUSIC NEWS (Canada)
– by Larry Delaney, April 2009
Nashville songwriter Byron Hill is one of the most decorated songwriters from the past quarter century, with his songs recorded by the Who's Who of Country Music (George Jones to George Strait and everyone in between; and he has also played a key role in the Canadian country scene with his songs and with his production work, most notably with Gord Bamford, earning Hill a Producer Of The Year win at the 2008 Canadian Country Music Awards. It is surprising he can find time to make his own records…but luckily for fans, Stay A While marks his third such project. Stay A While will definitely keep you entertained and make you want to stay for more than just a while. The album contains a wide variety of musical styles – there's a jazz scat/swing tune in More Where That Came From; a cabaret touch to Once You've Been To The Moon, a haunting story song in That Old Car, a little bit of extra bite in The Dream Comes True; and some melancholy in My Daughter's Father….heck there's even a hint of bluegrass in All The Home I Need, with Byron's vocal on that tune comparable to what Don Williams gave us for so many years. Two songs in particular demand special attention. Blame It On Kristofferson is a tribute of sorts to one of Byron Hill's songwriting influences, Kris Kristofferson; while You Ain't Chet Yet, is another fun tune which honors the work of the late guitar master Chet Atkins. As a sort of payback to Byron Hill's Canadian connections – he also includes the song Way Too Long, which he co-wrote with Canucks Gord Bamford and Duane Steele.
TODAY'S COUNTRY MAGAZINE
November 27, 2009
Byron Hill is a singer/songwriter that really needs absolutely no introduction. You have been singing along with his songs like George Strait's "Fool Hearted Memory" for years now and more recently probably caught yourself singing his songs like Gary Allan's "Nothin' On But The Radio" or Joe Nichols "Size Matters." With his new batch of songs that he presents on his new album Stay A While, Hill puts his abilities as a songwriter well on display bending between genres with relative ease. Early on in the album you get a dose of a dusty jazz feel with "More Where That Came From" as he gets your fingers snapping along. He uses his abilities in crafting a solid lyric combined with his rich voice to deliver slower paced gems like the albums title track "Stay A While," "Once You've Been To The Moon" and "My Daughter's Father," as well as the more up-tempo cuts like the feel-good "Life's A Ditch." However, he doesn't forget about his country roots as he wears his influences out on his sleeve with songs like the one that arguably stands out on this album, "Blame It On Kristofferson," and the foot-tapping, fun filled lyrically "You Ain't Chet Yet." Songwriters are always a fun listen because you never really know what you are going to get. Sometimes they lean far off to a non-mainstream side of their writing, or in the case of Byron Hill and this album, he offers up a batch of soon to be huge hit songs complete with their radio ready mainstream feel.
AMERICANA MUSIC TIMES
– by Steve Circeo, Feb. 23, 2009
This is pure, soulful country music from a guy who's been writing and performing it for years. While some of the lyrics are very clever and enjoyable, like "You Ain't Chet Yet" and "Blame It on Kristofferson," there are times when the lyrics fall short, like "Life's a Ditch," which, in its economic, if not artistic, defense, sounds like it could fit well on a Rascal Flatts record. All in all, the simple instrumentation combined with Hill's smooth vocal performances make for a very enjoyable CD. (SC)
CLARKSVILLE NOW
– by Rob Selkow, BYRON HILL/Stay A While. Hit making songwriter deliver a dozen originals, August 9, 2011
I discovered Byron Hill at a songwriters showcase in Clarksville, about an hour up I 65 from Nashville where Hill has been writing songs for more than 30 years. His hits as a writer or co-writer include "Pickin' up Strangers" for Johnny Lee, "Fool Hearted Memory" for George Strait and "Nothing on but the Radio" for Gary Allan (who Hill also championed when Allan was transitioning from car sales to country music). As a singer, Hill is a plainspoken balladeer whose rich tone falls somewhere between Don Williams and Mel McDaniel, which is to say, most pleasing to the ear. The lead cut, "Stay Awhile" establishes Hill as a country traditionalist that writes with simplicity and doesn't spruce up good songs with any unnecessary dressing. "More Where That Came From" is a bouncy, traditional country number with some tasty Dobro licks from Grand Ol Opry steel guitarist Tommy White. "Blame It on Kristofferson" is an ode to that Pied Piper of modern country songwriters that led the way for many Music City songwriters of Hill's era in the late 70's. "Way Too Long," is a mid tempo, trucking lament about life on the road that, in a perfect world would have already landed on country radio. The Dobro and mandolin may be a little too potent as arranged by Hill, but may have a radio future if sweetened up by someone else. "Life's A Ditch" and "That Old Car" are other radio-friendly tunes that could easily find a home on a Trace Adkins or George Strait album. My offering of Hill's songs to other artists is no reflection on Hill as a singer. He has the kind of voice that soothes, bends notes in all the right places and never lets you forget, this is country music. That's just enough to keep a good singer off the radio. The dozen songs included here are all solid. Those previously mentioned, plus "All the Home I Need" and "My Fathers Daughter" are great ones. This is an album I will spend more time with.
COUNTRY CALIFORNIA – Online Magazine
– by C.M. Wilcox, April 30, 2009
On his third studio album, songwriter Byron Hill strays from what I previously called the 'back porch appeal' of his first two albums. Where those earlier efforts were simple, efficient acoustic affairs, Stay a While finds Hill bringing more sounds into the mix, including electric guitar, keyboards, piano, and even organ on some tracks. The result is a somewhat more lush-sounding record, one that will probably be a bit less jarring to ears accustomed to a radio-ready production style. Hill, who also fills the producer seat, does an admirable job of not washing away all of his everyman charm in the tide of these sonic embellishments. The thing that ultimately keeps the effort grounded is Hill's voice, a charming workhorse that's as warm and relateable as it is technically limited. His Myspace page wryly notes that he "Sounds like: a songwriter," which at first blush reads more like a joke than the secret of success that it truly is. Sadly, though, Stay a While is sorely lacking in the all-important songcraft element that creates interest and moves action forward: conflict. A hallmark of Hill's previous albums was the break-up song, a preoccupation which combined with the acoustic style to give the impression of a lovable loser strumming a guitar out on the porch as he watches his baby not coming back (to borrow a line from a David Ball single). As a songwriter, some of Hill's best efforts have been those built on conflict. Oftentimes, the conflict is even spelled out in the lyric that gives the song its title: "I've got a fool-hearted memory" (George Strait), "Nights are the loneliest part of the day/That's when your memory comes around" (Ed Bruce), "Let's talk about anything, anything in this world/But politics, religion, and her" (Sammy Kershaw), "I took her to the moon/And I can't bring her back" (Trace Adkins). If these new recordings are any indication, Hill is now at a happy juncture in is life. Stay a While practically revels in contentment and life lessons learned. The dewy-eyed title track, the finger-snappingly cool "More Where That Came From," the trucking ballad "Way Too Long," the smooth "Once You've Been to the Moon," and the buoyant "The Dream Comes True" are all about being madly in love. In fact, the one song that sounds like a good break-up song ("The Photograph") was actually written about the passing of a mother. Given that Hill's previous albums spent about half their time dealing wonderfully in the problems of love, it's a little disappointing to find that everything is suddenly going so terribly right. While most of these songs are fine and even enjoyable on their own, the album sags a bit under the weight of so many of them. That's not to say that every song is about love. There's also an ode to an old friend in the form of "That Old Car," a story song complete with life philosophy in "Life's a Ditch," and a song about the rambling life of a musician in "All the Home I Need." While these are welcome breaks from the virtual lovefest elsewhere on the album, they are neither numerous enough nor outstanding enough to reverse the album's general treacly trend. Hill does best when writing in more of a broken and self-reflective mode, as he does on two of the album's finest songs. The first is "Blame It On Kristofferson," which finds him thinking about the man who set his life's course and the awestruck boy inside of him still trying to live up to the legend some forty years later: "I've been blessed to bring a smile to a few folks with my songs. Bring a tear to someone's eye and hear them sing along. But sometimes I start hating every word I've ever written, Thinking I ain't ever living up to "Sunday Morning Coming Down" at all….Blame it on Kristofferson". Even more poignant is the album's final song, "My Daughter's Father," a quiet meditation on balancing the expectations of the world (and self-expectations) with more essential matters of the heart: "It's not like everybody's waiting to see if I'll go far. It's not like everybody's watching, though sometimes I think they are. I don't have to change the world, I don't have to walk on water. All I have to be is my daughter's father". Although a few more moments like these would have improved Stay a While immensely, what's here is a solid songwriter album. While I'd recommend either of Hill's first two albums ahead of this one for those interested in discovering his talent, established fans will likely find plenty to enjoy about this latest offering.
---
REVIEWS – Byron Hill Ramblings CD (2004)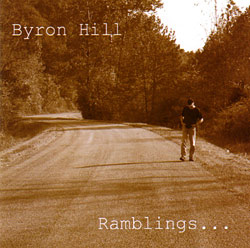 MUSIC ROW MAGAZINE
– by Robert K. Oermann
Byron's nicely textured acoustic song cycle Ramblings…'Love Crazy', 'First Fool In Line', 'Bad For The Heart', and 'Now And Then'…sound an awful lot like hit songs.
TAYLOR GUITARS MAGAZINE
– by Andy Robinson
www.taylorguitars.com/news/onreview/byron_hill_ramblings.html
Record producers often say that in order to make a terrific record, one must start with an outstanding song. Byron Hill is an extremely successful songwriter, and might be considered a "go-to" guy for country music producers. Almost 500 of his songs have been recorded by such stellar artists as Reba McEntire, George Jones, Alabama, Kenny Rogers, and the late Ray Charles, and Hill's work has earned numerous industry honors, including 61 gold and platinum awards. He also produces, publishes, and records music.  Hill's own 1999 CD, Gravity…And Other Things That Keep You Down To Earth, won unanimous praise from critics. For his new one, Ramblings…, his primary goal was to create an album of favorite songs that reveal his own feelings, thoughts, and beliefs, regardless of whether other artists show interest in recording some of those songs.  Ramblings… is a strong collection. Musicianship throughout the album is excellent, if understated; Hill strums and picks his K14c, front and center, and his rich vocal delivery serves each song well. The songs themselves are varied, with contrasting themes.  "Love Crazy" is a standout cut, with a simple, joyful message about being smitten, while the moody "Cobbtown" paints the lonely picture of a former homecoming king discovering that, over the years, he has faded from the collective memory of a town he remembers in aching detail. Elsewhere, Hill alternately displays a wry sense of humor ("The Only Thing Wrong") and soaring romanticism ("Wings of Your Love"). "Truckstops, Honky-Tonks, and Cheap Motels" is the album's closer. It's a folky tale of an itinerant musician's life on the road, told with potent and believable imagery.  Country fans will enjoy this CD, and listeners familiar with Byron Hill's songwriting will not be disappointed. Because of Hill's emotional investment (not to mention his considerable lyrical and melodic chops), each song rings true, and is destined to be meaningful to many listeners.
VINTAGE GUITAR MAGAZINE
– by Steven Stone, Vintage Guitar Magazine
Byron Hill spent the last 25 years in the Nashville songwriter trenches where he's done work for the likes of Ray Charles, Kenny Rogers, Alabama, Randy Travis, George Strait, Asleep at the Wheel, Sammy Kershaw, Anne Murray, George Jones, and even Doc Watson. One listen to his latest self-produced CD, Ramblings, proves that Hill can not only write great songs but also deliver them on a shiny silver platter. I reviewed Hill's last solo release, Gravity, in 2000. It demonstrated that no amount of studio gimmickry or big budget production tricks could improve upon a well-crafted song performed in a straightforward manner. On Ramblings, Hill delivers 14 more musical gems. With co-writers including Tim Krekel, Adam Dorsey, Gary Scruggs, Mike Dekle, Billy Yates, and Odie Blackmon, Hill's songs combine infectious melodies with pithy lyrics. His musical styles span from country two-steppers such as "Now and Then", to Western swing on "The Only Thing Wrong" to slow ballads, "I Knew I Loved You", and borderline novelty tunes such as "Life Will Kill You," and "Humdinger on Her Finger." My favorite song on Rambings, "First Fool In Line" features a bittersweet melody coupled to simple lyrics and understated orchestration. The final result gets straight in your heart. Byron handles all vocals as well as acoustic guitar and flamenco guitar. Pat McGrath, Billy Panda and B. James Lowry cover other guitar parts. Glen Duncan plays mandolin, fiddle, and banjo, Mike Johnson plays dobro and ped-a-bro, Dave Pomeroy plays acoustic bass, and Paul Sholten plays drums and percussion. Mostly recorded during August and September 2004 at the Country Q recording studio, by engineers P.T. Houston and Rob Matson, Ramblings has a fine relaxed sound that doesn't depend on studio sound effects or artificiality for its power. The sonic emphasis stays on Byron's voice and the simple acoustic accompaniment. I wish that more contemporary country music were as finely crafted and direct as the songs on Ramblings. This album could even bring listeners who have abandoned modern country back into the fold.
COUNTRY MUSIC NEWS (Canada), The Voice Of Country Music In Canada
– by Larry DeLaney, December 2004
This time around Byron Hill delivers songs that he likes to sing, and of course he has had his songwriting pen in all of them. Not surprisingly, a lot of this would fall into 'hit' category in the hands of some of today's chart warriors.
COUNTRYCALIFORNIA.COM
– by John Maglite
Ramblings subtly embellishes Hill's sound without distracting from its lyrical focus. A few new sounds enter the mix, most notably drums/percussion and banjo. These additions lend many of the songs an extra propulsive energy that makes this album, on the whole, seem a bit brighter and more up-tempo than Gravity. It's also a little more melodic and hooky. This means that even if you do find a song like "Humdinger on Her Finger" hopelessly corny, it will probably get stuck in your head anyway.
RAMBLES.NET
– Jerome Clark, January 20. 2007
Well, here's a surprise. That it's an album of commercial country songs by a successful commercial country songwriter is not the surprise. The surprise is how good this is. Not that commercial country songwriter is a dishonorable profession; think Bob Miller, Floyd Tillman, Harlan Howard, Justin Tubb, Bobby Braddock, Ray Pennington, Tom T. Hall … well, the list goes on and dizzies with pleasant memories. It's just that over the past couple of decades the Nashville's Music Row has turned out sludge, mostly. Songwriting there seems little more than a maddeningly incessant recycling of the tried and tired: treacly love songs, jingoistic rants, banal affirmations and good-ol-boy (or -girl) posturing. Sentimentality oozes like a mighty flood of syrup drowning all in its path.  Yet sometimes, when a song is rescued — which is to say placed in an intelligent setting where melody and lyrics are served by something other than rote — one is startled into the realization that at least some of these songs were actually fairly decent when they were written. Nobody who listens to Ramblings will have any problem imagining them fattened into radio-play obesity. On the other hand, Byron Hill's sharp, electricity-free arrangements lead even the most doubting listener to the unthinkable: yes, the finest commercial writing in Nashville produces songs not conspicuously inferior to the classic compositions that defined country in its golden age.  Ramblings is all Hill songs (most of them co-writes), chosen from his massive catalogue because they were, he explains, among the most personally meaningful. The pleasure is ours. Hill delivers the songs in a dusty baritone that on occasion calls to mind such masters of lyrical intimacy as Merle Haggard and Alan Jackson. The production is cleanly acoustic and crisply orchestral, with guitars, mandolins, harmonicas, drums, dobros and fiddles moving his reflections on life, love true or untrue, and the musician's lot. Even the unpromisingly titled "Wings of Your Love" soars, however improbably.  The simple word "heart" has been so abused and overused in lazy Nashville writing in the last few years that by now its appearance can induce rashes. And yet Hill's "Bad for the Heart" is among the most fulfilling pure-country songs I've heard this past year. You might say Hill is a hack in the best sense of the word. Maybe a better — certainly more polite — way to express it is this way:  Hill underscores a point that Nashville's recent history has done all in its considerable power to obscure: that songs can be commercial and meaningful. I can't say I'd want to hear the cuts on Ramblings done as some pretty-boy hat-act would do them. (Actually, one song here, "Traditions," hints that Hill wouldn't either, though presumably he'll still accept the royalty checks.) But as Hill does them — with soul, sincerity and fabulous pickers — they will knock you out.
THE ADVERTISER (UK)
– by Pete Smith, 25 February 2005
Byron Hill "Ramblings" (BHP). Byron Hill is one of Nashville's finest songwriters. I mean, songs that have claimed 61 gold and platinum and 8 ASCAP awards and hit the number one spot on six separate occasions come only from the pen of someone who is the cream of the crop. Byron's writing talents have tended to eclipse his great country voice. The 14 new originals see Hill aided and abetted by some of "Music city's" top acoustic pickers; the ultra talented Glenn Duncan (mandolin, fiddle, banjo), Mike Johnson (Dobro, Ped-A-Bro), Dave Pomeroy (upright bass), Larry Baird, Pat McGrath and James B. Lowry (guitars) and Jelly Roll Johnson (harmonica). Feast your ears on "Like A Country Song" "Bad for The Heart", "Traditions", "Truckstops, Honky-Tonks And Cheap Motels" and my particular favourite, "Humdinger On Her Finger". www.byronhillmusic.com. Album of the Week.
ELGIAN COUNTRY MUSIC ASSOCIATION (UK)
– by P. Smith, 28 February 2005
Byron Hill "Ramblings" (BHP). Take a look at your major label albums, the songwriter's credits, and a name that appears again and again is Byron Hill. His songs have claimed some 61 gold and platinum and 8 ASCAP awards and have chalked up six number one singles. I have been aware of Byron for some years but did not know what a great voice he has. For these 14 new originals Hill is joined by the cream of Nashville's acoustic musicians for such wonderful country songs as "Bad for The Heart", "Traditions", "Like A Country Song" and totally infectious "Humdinger On Her Finger". Fiddle, banjo, Dobro, steel. It don't get more country than this! www.byronhillmusic.com An Album of the Month.
APPALACHIAN STATE UNIVERSITY
– by Alison Fosbenner, Staff Writer
If you have heard and enjoy songs by artists such as Alabama, Ray Charles, Kenny Rogers, Toby Keith, Reba McEntire and George Strait, former Appalachian State University student Byron Hill is most likely the musical and lyrical genius behind their hits. From 1971-1973, Hill attended Appalachian State, where he began to play guitar locally and his songwriting strengthened.
"Appalachian was a huge influence on my songwriting," Hill said. Today, as a songwriter, nearly 500 of Hill's songs have been recorded. He has received 68 certified gold and platinum albums from the Recording Industry Association of America, eight awards from the American Society of Composers, Authors and Publishers and six No. 1 one singles in the United States and Canada. It doesn't stop there. Not only does Hill use his talent to write songs for others, but he also performs in Nashville, Tenn., and others areas in the Southeast. His second album, titled "Ramblings," was released in November 2004. Thirty-three years earlier, at age 17, Hill came to Appalachian. He took a few music courses here but he learned to play mostly from his formal music training. "My main influences while at Appalachian were my friends," Hill said. He and his fellow Bowie Residence Hall roommate Liston Smith began playing guitar together. Smith introduced Hill to the finger-picking style of guitar playing and to the music of Doc Watson. Soon after, he formed small groups to play in the campus coffee shop (which at that time was on the second floor of Plemmons Student Union), local ski resorts and some nearby bars in Blowing Rock. Hill joined Gene Wooten in 1972 and the two played bluegrass together. They performed frequently at Beech Mountain's Four Seasons Hotel. Thirty years later, Hill continues to give back to his stomping grounds that helped launch his career with Nashville Songwriters Association International (NSAI) workshops. Cheri S. Maynard, a senior education major, started the Boone regional division of NSAI three years ago. Members meet the first Tuesday of every month. As coordinator, Maynard plans meetings and discussions, and arranges group performances along with her co-coordinator, Greg M. Taylor. For each NSAI workshop, Maynard brings in a professional from Nashville. Hill said these workshops are meant for "groups of songwriters that live in the area to help others' careers."  "He's our hero for songwriting," Maynard said Hill is currently the vice president of NSAI. "I feel real good about the route I have taken," Hill said. "I have stayed true to songwriting." With so many accomplishments, Hill continues to set goals and now has hopes to win NSAI songwriter of the year and/or a Grammy award. To students with similar aspirations, Hill said perseverance and passion are most important. "Stick with it," Hill said. "If you're happy and you love it, success and security will come." Hill explained that too often we just look at financial aspects. "It's so important for young people to find happiness," Hill said. Especially for Appalachian students, "look around, you are so fortunate to live in such beauty," he said. For anyone interested in joining the Boone NSAI Workshop, meetings are held on the first Tuesday of every month at 7 p.m. at Living Water Christian Fellowship Church on Boone Heights Drive. Check out www.byronhillmusic.com for more information or to purchase his albums.
WBMZ FM 103.7 THE BOOMER
Metter, GA.
We received your cd a few days ago and just fell in love with "Cobbtown".  Even though we're a classic hits station we've found a way to make it fit into our format.  We air "The Steve & DC Show"  weekday mornings and found that to be a great opportunity to give it some air time and all the locals love it.  We've played it for lots of friends & I'm sure you'll get lots of airplay around here.
THE TATTNALL JOURNAL
– by Adam Crisp, Staff Writer, Reidsville, GA
Interstate Inspiration – Highway sign inspires Nashville songwriters to write about life in Cobbtown….Breeze along the interstate, and names will pop off green signs as fast as the small checks of white paint dart by vehicles. Small towns like Cobbtown blend with the multitude of other little-known exits off Interstate 16. Who takes the time to ponder what small town lies beyond the 70 mph hustle of the big highway?
UNIVERSITY OF NORTH CAROLINA
The Daily Tar Heel Online
– by Amy Jackson, Staff Writer, November 18, 2004
Hill's 'Ramblings …' offers eerily prophetic title. It must be frustrating to be the songwriter behind the scenes, crafting melodies that will translate into a bunch of successful songs for good-looking stars. Well, enough is enough. Byron Hill is no longer hiding behind writing other people's hits. Now he's making his own. Raised in Winston-Salem, Hill started his musical career at the tender age of 10. He attended Appalachian State University and then moved his way up the ladder by contributing his songwriting talents to artists such as Randy Travis and Toby Keith. Hill's new album is an attempt for him to express his own thoughts and personal feelings instead of doing it for someone else. The first word that comes to mind after 10 seconds of the first song is "twangy." His personal journey as revealed in Ramblings… is about as country and twangy as it gets. The first two songs on the album, "Love Crazy" and "Cobbtown" are reminiscent of his high school days: Girls and football games are highlighted in these two sappy and oh-so sad songs. Ramblings screams of unhappiness. Look at the titles: "Love Crazy," "First Fool in Line," "The Only Thing Wrong" and "Life Will Kill You," to name a few, This heartfelt album may get a too personal with Hill's unhappy side of life. Perhaps he resents the fact that he's writing successful songs for his fellow country music brothers and is not a successful singer himself. Everyone knows that a lot of country music is either really depressing or doesn't make much sense to those outside the fan base. There's the poppy country like Kenny Chesney, Tim McGraw or Faith Hill, and then there's everyone else who just want to sing songs about their sad, pathetic lives. North Carolina is well represented in Hill's Ramblings. Where else would he have gotten the inspiration for the last song on the album, "Truckstops, Honky-Tonks and Cheap Motels"? If that doesn't make North Carolina proud, then nothing ever will. On a happier note, there's even a song that was originally recorded by none other than Ray Charles, "The Pages of My Mind." Hill was inspired to put the song on the album after Charles' death. The song was a country hit for Charles in 1987, but Hill's interpretation might not bring home a Grammy. Not all music falls under a specific genre, but really how many broken hearts and high school football games does everyone have to hear about? Country acts should start immortalizing something besides truck stops and a tractor pull.
WILLIAM F. WILLIAMS
Former KRLA Radio Personality, Los Angeles, CA
I'd love to be a song plugger running with these tunes…..these tunes are real country classics…..I've been listening, trying to pick my favorite but it's too hard …..one time through it's one song and the next time it's another.
---
REVIEWS – Byron Hill Gravity…and other things that keep you down to Earth CD (1999)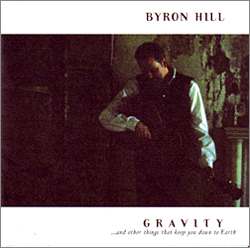 MUSIC ROW MAGAZINE
– by Robert K. Oermann, December 23, 1999
BYRON HILL "Took Her To The Moon", Writer: Byron/Mark Nesler; Producer: B. James Lowry/Byron Hill; Publisher: Universal- MCA/Brother Bart/Sold For A Song/Glitterfish, ASCAP/SOCAN/BMI; BHP 4501 (Track). The charm of the vocal is equaled only by the splendidly jaunty accompaniment and the totally clever lyric. Give yourself a treat and listen. Album compiling this hit tunesmith's works is titled Gravity.
TAYLOR GUITARS MAGAZINE – Discover The Indies
– by Jim Kirlin, December 1999
After 21 years as a Nashville songwriter, Byron Hill decided to record his own dang album (and in his liner notes thanks his fellow staff writers for not snickering). Hill's tunes have been recorded by such household names as Ray Charles, Kenny Rogers ("Someone Must Feel Like a Fool Tonight"), Alabama ("Born Country"), Randy Travis, Doc Watson, George Strait ("Fool Hearted Memory"), Asleep at the Wheel ("Keeping Me Up Nights"), Johnny Lee ("Pickin' Up Strangers"), Sammy Kershaw ("Politics, Religion and Her"), Anne Murray ("Over You"), George Jones ("High Tech Redneck"), and Tracy Byrd ("Lifestyles of the Not So Rich and Famous"). The list literally goes on and on. Gravity…and other things that keep you down to Earth is a wonderfully warm, pure, organic acoustic "unplugged"country album that eschews slick, pop-in-country-clothing production layers in favor of the mellow, woody richness of acoustic guitar, upright acoustic bass, fiddle, mandolin, dobro, and harmonica. No drums are used; percussive sounds abound in subtler form, in the natural hand slaps against wood and across strings. Hill's melodic baritone sounds utterly natural, relaxed and timeless, dovetailing smoothly into the instrumentation, giving each sweet melody a wholeness, an eavesdropping intimacy, that sounds as if the band was playing live. Hill also happens to be surrounded musically by some of Nashville's leading lights: B. James Lowry (acoustic guitar, co-producer), ace bassist David Hungate (founding member of the band Toto); legendary pedal steel/dobroist Sonny Garrish; mandolinist and fiddle player Aubrey Haynie (nominated for Bluegrass Music Association 1998 Fiddle Player of the Year); and Hohner harpmeister Jelly Roll Johnson. These boys all know how to put a shine on a song with one-take chops and intuitive feel. Gravity…distills away the charicatured elements of country music that have misinformed so many people, and celebrates the art of writing simple, compelling songs.
VINTAGE GUITAR MAGAZINE – Acousticville
– by Steven Stone, May 2000
Byron Hill-Gravity
Byron Hill has spent the last 21 year in the Nashville songwriter trenches where he's done work for the likes of Ray Charles, Kenny Rogers, Alabama, Randy Travis, George Strait, Asleep at the Wheel, Sammy Kershaw, Anne Murray, George Jones, and even Doc Watson. He's also produced Kathy Mattea's first Mercury Records LP. He has, in short, paid his dues. "Gravity" is a selection of Byron's material recorded over seven days in August and one day in September of 1998. Sidemen for the project included Aubry Haynie on fiddle and mandolin, David Hungate on acoustic upright bass, Sonny Garrish on dobro, B. James Lowry on acoustic guitar, and Jelly Roll Johnson on harmonica. The songs match the caliber of the musicians. My favorite cut on the CD is "Thanks for the G Chord" which begins with dobro and acoustic guitar doubling on the infectious lead lick. Aubry Haynie's mandolin fills are also impeccable. Byron Hill's direct vocal presentation delivers this song with simplicity and elegance. This CD demonstrates that no amount of studio gimmickry or big budget production tricks can improve upon a well-crafted song that is performed in a straight-forward manner. I only wish that more contemporary country music was as honest.
THE FIDDLE & BOW SOCIETY
– by Sonny Thomas, March 2000 Issue
BYRON HILL: Gravity…and other things that keep you down to Earth
Byron Hill is a Winston-Salem native who has been working (quite successfully) as a songwriter in Nashville for the last 20 plus years.  His songs have been recorded by George Jones, Johnny Lee, Joe Sun, Juice Newton, George Strait, Randy Travis, Kenny Rogers, and many other top Nashville artists. This is, however, Byron's first solo album of him doing his own songs, and it's a very strong debut. Byron is backed on the album by B. James Lowry on guitar, David Hungate on acoustic bass, Aubrey Haynie on fiddle and mandolin, Sonny Garrish on dobro and Jelly Roll Johnson on harmonica.  The sound is tight and Byron's vocals are solid as well.  A couple of songs have "hit" written all over them in my book.  "After You're Gone" and "Hold That Thought".  But the album is consistently good throughout.  It's a nice mixture of serious love songs and droll statements on life like the title song and "Politics, Religion and Her", a list of topics to be avoided in conversation. Sometimes it is easy to think that the music coming out of Nashville is all posing in tight jeans, cowboy hats, and big egos. Strip the show biz away and you realize how talented some of the songwriters from Music City are.  Byron Hill's new album is the perfect example of finely crafted songs possessing wit, character and tunefulness presented with excellent musicianship and style.  Highly recommended!
THE LOAFER
– by Michael Clark, Kingsport, TN entertainment weekly, May 9, 2000
BYRON HILL: Gravity…and other things that keep you down to Earth
This is an absolutely wonderful album! Byron Hill is a well-known Nashville songwriter and producer, with such tunes as "Lifestyles Of The Not So Rich And Famous", Politics, Religion And Her", and "High-Tech redneck" to his credit. With "Gravity…" this former Appy State student has put his North Carolina roots to good use and produced a rich acoustic CD. "Politics" is here along with "Thanks For The G Chord", previously rendered by Gil Grand. Hill's warm baritone closely resembles Trace Adkins', which makes the songwriter's version of "Took Her To The Moon" included here even more familiar; as a bonus, the song actually works better in this acoustic rendering as Hill's voice adds a sense of bewilderment to the off-beat tale of love and money. As good as the above tracks are, "Trail Of String", "Plan B", and "Serious Crime" are even better. "Trail" is a bittersweet tale of regret, and "Serious Crime" is an upbeat tune of love done dirty that would be perfect for Patty Loveless. "Plan B" is the flip-side (opposite story) of Dave Loggins' classic "Please Come To Boston". In Hill's take, the man waits as plan B while she reaches for the stars in Los Angeles.  Oh, and let's not forget "That's What Love Will Make You Do" and "After You're Gone". Throughout this excellent disc, Hill's warm and fuzzy voice enriches the melodies and brings home the content of each song in near-perfect fashion.  This is definitely a deserted island disc, and one that is getting increasing difficult to remove from the CD player.
FOLK & ACOUSTIC MUSIC EXCHANGE
-by Guntram Gudowius , 2000
BYRON HILL: Gravity…and other things that keep you down to Earth
This is one of those recordings where I find myself hitting the repeat button. The songs come across as acoustic country, and are a wonderful example that less can be more – two guitars, upright bass, fiddle, mandolin, dobro and harmonica in different combinations, played by excellent musicians who create sounds perfectly fitting the mood that the lyrics deliver. These are stories of good and bad love, a clever tongue-in-cheek account of how a relationship can change not only your life, but your surroundings, facts of life with the metaphor of "musical chairs," and salty water dripping from every line of a (satirical) tear jerker with the befitting title You Sure Peeled The Onion.
COUNTRY STANDARD TIME
– by Clarissa Sansone, April/May 2000
Byron Hill: Gravity…and other things that keep you down to Earth, 1999 (BHP)
Nashville songwriter Byron Hill once said he "wanted to write songs that were commercial." He succeeded. The likes of George Jones, Sammy Kershaw, Tracy Byrd, Trace Adkins, Kenny Rogers and other big names have recorded Hill's tunes. His latest effort is an album of originals backed by a solid group of country and bluegrass musicians. The first song, "After You're Gone," is also the album's finest. Delivered with thoughtful dispassion, Hill's lyrics are complemented by a spare guitar and understated bass slaps. Songs like "Trail of String" and "Love's in the Here and Now" are jazz-like, featuring a wistful harmonica solo and sweet fiddle backup, respectively. Hill excels at a kind of lyrical enjambment that causes songs to become entangled in one's mind, which isn't so bad with a tune like "Gravity," but which can become downright annoying with lyrically sentimental pieces like "Plan B" and "Thanks for the G Chord" – the latter being the kind of overtly commercial fare that emerges in souped-up form from Nashville recording assembly lines. Compared to the calculated catchiness of some of the lyrics and the ease with which the musicians play, Hill's voice is probably the least sophisticated component of the album. Yet it is also one of the most enjoyable.
COUNTRY MUSIC NEWS (Canada)
– by Larry Delaney, Country Music News, February 2000
Byron Hill has been penning some of Nashville's top hits for the past two decades, including winners for many of Canada's top acts, from Anne Murray to recent success with Gil Grand (Hill also produced Grand's Famous First Words debut album).  Now after all these years, he steps to the forefront with his own debut album…and not surprisingly it is filled with musical gems.
It is always interesting to hear the creator of a song sing his own compositions as they were first envisioned.  On Gravity we have 'Byron Hill interpreting Byron Hill', and that's a treat in itself.  Hill has an ultra-mellow vocal delivery, and smooches his way through these tunes surrounded in a pure 'acoustic' environment.  Some of the songs will be familiar, like Took Her To The Moon included on recent albums by Trace Adkins and Mark Nesler; Politics, Religion And Her a Top 30 single in 1996 for Sammy Kershaw; and Thanks For The G-Chord, a marvelous song that has somehow remained buried on Gil Grand's excellent album. There's also some 'hits-in-the-waiting' here and it's likely only a matter of time before some hot Nashville act clues into surefire material like Musical Chairs (a statement song if there ever was one); the caustic Plan B, and a genuine tear-jerker in You Sure Peeled The Onion…and the real prize is a bluesy After You're Gone. "Now, after all these years, he steps to the forefront with his own debut album…and not surprisingly it is filled with musical gems.  -LD
BRITISH COUNTRY MUSIC ASSOCIATION (BCMA) MAGAZINE
– by Jim Marshall, April 2000 Issue
Were it not for the fact that British songwriter, Tony Hiller, contacted us for a list of UK country radio shows, we may never have heard this truly excellent album, by Nashville-based singer and writer, Byron Hill, and that would have been our loss. Hiller himself is co-writer on four of the tracks here and the whole self-produced CD just reeks of quality.  Over the past 21 years, Hill has written for George Strait, George Jones, Sammy Kershaw, Kenny Rogers, Doc Watson, Ray Charles and a whole host of other top names making one wonder why his own vocal talents have taken so long to emerge. With a voice sounding like a cross between Guy Clark and Don Williams at their peak, Byron Hill is certainly a welcome addition to the singer/songwriter scene.
SING OUT! MAGAZINE
– by John Lupton
Vol. 44, #3 Spring 2000
Byron Hill is a country singer with an interesting voice that invites, and sometimes commands attention. It's a deep baritone that occasionally bottoms out in the bass regions, suggesting comparisons with the likes of major country stars like Alan Jackson and George Strait. It's a good enough voice to make him a star in Nashville, and there are plenty of arena-filling acts hat acts who can't sing as well as he does. What really sets Gravity apart, though, is that it's a solid mainstream country album that gets by without any of the production cliches that Nashville relies on these days. No electric guitar power chords.  No crashing drums. No string sections. No Stetsons even. Working with acoustic guitars, mandolin, fiddle and dobro, Gravity is so retro that even the bass is a stand-up acoustic doghouse. This alone makes it a refreshing change of pace. Of course the fact that Hill co-produced the disc and released it on his own BHP label probably has a lot to do with this. All fourteen songs on the album were co-written by Hill with a cast of collaborators that includes veteran Nashville writers like Tony Hiller and Tony Martin, and on the whole, it's material that is sometimes amusing, sometimes thought provoking, and generally worth paying attention to, even though all but one of the songs are romantic ballads of one sort or another – good love, bad love, lost love, found love, wistful love, desperate love. And, come to think of it, the one exception ("Thanks For The G Chord", the album's closing track) deals with parental love.  All pretty well done, but it would have been nice to have a little more variety in the subject matter and theme.  Still, on cuts like "After You're Gone" (with it's sultry echoes of Gordon Lightfoot's "Sundown"), "Took Her To The Moon" and "Serious Crime", Byron Hill shows signs of being the kind of distinctive country talent that Nashville should be (but sadly, is not) rushing to record. Maybe Gravity will catch the attention of one of the major labels, and maybe Hill will end up as just another country-flavored rock singer, but it would be a shame if he didn't do another album like this. – JL
MAXIMUM
– by George Olsen, March 29 2000
(George Olsen is the local host for "Morning Edition" on Public Radio East, NPR News and Classical Music, at 89.3, 90.3, and 91.5-FM. "Morning Edition" is heard weekdays from 5-9 a.m. Visit the Web site at www.publicradioeast.org)
So many songs Byron Hill has penned hits for a host of country stars. In my mind, the genesis of any artistic creation I might come up with would forever be burned into my brain. But put the question of the origins of the song "Took Her To the Moon" (best known for it's recording by country music star Trace Adkins) to it's co-writer, Winston-Salem native Byron Hill, and there's a long pause. "I'm trying to remember on that. I can't really remember. I'd like to tell you who gets credit for what, but … I really can't remember how that one came about. I just remember a really long day of work on it. That really sticks in my mind." In all fairness, Hill forgetting the exact moment of inspiration on a song here or there isn't too surprising given the sheer volume of songs he's written in a near-25-year career in Nashville. George Jones, Randy Travis, Doc Watson, Kenny Rogers, George Strait, Alabama, Ray Charles, Reba McEntire, Conway Twitty, Anne Murray — they're a handful of the country music glitterati who have recorded Hill's music. And now, after watching the spotlight shine on the artists who've recorded his music, he's hoping to steal a bit of the attention with the release of his own CD "Gravity … and other things that keep you down to Earth." "Gravity" features, obviously enough, 14 compositions penned by Hill and his various partners. But it's just a tiny fraction of Hill's compositional catalog, and deliberately so. "What I like to do out of my catalog of songs is a pretty narrow little slice of what I do as a writer. The kind of things I can pull off as a singer and as a performer is a little quirkier. It's the kind of thing that a lot of artists don't really want to pick up on. The kind of songs I like to do as a performer are maybe almost like character songs. I enjoy stepping into those characters that another artist may not really like to put himself into." His affinity for those character songs shows. The aforementioned "Took Her to the Moon" is a good example. Hill's understated vocals accompanied by spare acoustic instrumentation bring out the tongue-in-cheek humor of the song — humor which got buried in the big-time country production of Adkin's version. "Politics, Religion and Her" is the only other song on "Gravity" covered by a recognizable country name, Sammy Kershaw. And though I haven't heard Kershaw's version, it's hard to believe he could get across the heartbreak-handled-through-humor found in "Politics, Religion and Her." While "Gravity" puts the focus solely on Hill, he's still a Nashville songwriter first and foremost. While discussing the love song "Eyes of Wonder," he trails off for a moment to express his wish to somehow get the song to Willie Nelson. And in remembering the circumstances behind "Fool-Hearted Memory," the first number one single for George Strait, he pauses long enough to hope for another chance at a Strait cut. Still, while he itches for another shot at a number one single with a major country artist, there are other satisfactions along the way, like having legends deem his material worthy of putting their name on it. "The Ray Charles cut … ("The Pages of My Mind," the title track from a Columbia recording in 1986) it just came totally out of the blue. Chet Atkins had told me years ago he liked the song a lot. In fact, he sent me a letter early on in my career saying how much he liked that song, and knew it would be a hit for someone. My parents still have that letter hanging on a wall in North Carolina. I sort of feel the same way about Doc Watson. Doc Watson is just such an icon to me and to folk instrumentalists. It just really thrilled me to get the Doc Watson cut ("Sadie" from a 1981 Flying Fish label recording called "Red Rocking Chair"). Those cuts don't earn a lot of money for a songwriter, but it's just the kind of thing you like to hang on the wall. You feel, just having this on your list of cuts — I can quit now." It's doubtful that will happen any time soon. First things first — there's a song Byron would like Willie Nelson to hear.
BILLBOARD MAGAZINE, Sept. 9, 2000
– by Deborah Evans Price
Interview with John Michael Montgomery
"The Little Girl" isn't the only song on the forthcoming album he's excited about.  He's particularly fond of a tune called "Thanks For The G Chord", which he says reminds him of his father.
"My dad was a musician. He loved it and wanted to be in the same place I am today", says Montgomery. "Obviously, it didn't happen for him, but if it wasn't for him and my mom, I wouldn't be here…That song says everything. I feel like it was written about me. Everything in there I can relate to so closely. For personal reasons, it may be my favorite one on the whole album"-John Michael Montgomery
CDNOW
– by Brian Mansfield, Senior Editor, Country
Interview with John Michael Montgomery
"Like…. "Thanks For The G Chord," ….if I ever meet the guy that wrote that song … I felt like it was written about me. I mean, my first car was an old blue Ford when I turned 16 and stuff. That could be my favorite song on the album. I just never felt like I said thank you to my father enough for everything he'd done for me, especially being my father. I think he was the greatest father in the world — he was my best friend; he taught me how to be an entertainer and play guitar. There's so many things that I know I just didn't thank him about, and this song here just knocked me backwards when I heard it … Will it be a single? I don't know. When I first started, I tried to find 10 hit songs. Now, I just try to make an album that has some character and has a little theme. Everything kind of fits together a little bit more, instead of just throwing 10 songs that could be radio hits on there."-John Michael Montgomery
COUNTRY WEEKLY
– by Gerry Wood and Larry Holden, Oct. 17, 2000
Interview with John Michael Montgomery
One of the album's songs "Thanks For The G Chord", hits close to home.  "For personal reasons, that may be my favorite song on the album," he notes.  "When I heard it the first time, I thought, 'Somebody wrote this about my life!'" The lyrics parallel John Michael's Kentucky upbringing and his love for his father, who died of cancer in 1994. "The song talks about having an old Ford.  Daddy gave me a 1972 blue Ford Torino when I turned 16. I had such a strong relationship with my father who was also a musician. So this song struck a personal chord with me."
MOUNTAIN WEST MUSIC
– by Laurie Paulik (for CountryCharts.com)
"Less is more" once again proves true in Gravity a new acoustic offering by Byron Hill. The CD comprises 14 numbers by Nashville producer/songwriter Hill, whose writing credits include such numbers as Johnny Lee's "Picking Up Strangers," George Strait's first #1 hit, "Fool Hearted Memory," Alabama's "Born Country," Tracy Byrd's "Lifestyles of the Not So Rich and Famous," and George Jones' "High Tech Redneck." Hill's deep, warm baritone is immediately inviting. Sit back, relax, and mellow out as he spins superbly crafted tales of remorse, betrayal, emotional debt, love gone right, and love gone bad. The album's first cut, "After You're Gone," has an almost Gordon Lightfoot sound and feel, conveying the disquieting turmoil of a man afraid to trust that love will last. A mandolin introduces the jaunty "Took Her to the Moon." Flowers, fishing magazines, toilet seat covers, bed spreads and other articles of everyday life frame this amusing, sometimes quizzical tale. Hill then croons out a "feeling blue" tune, "Trail of String," followed by the mid-tempo title cut, "Gravity", which, as Hill cleverly notes in the song, is about the "physics of love gone wrong." A wide range of emotions unfold in the following three numbers: the tender "Eyes of Wonder," wistful "Hold That Thought," and joyful "That's What Love Will Do." "Musical Chairs," one of the best numbers on the album, likens love, work, and life in the spotlight to the children's game of musical chairs. "Politics, Religion and Her," penned in 1996 by Hill, was released as a single by Sammy Kershaw. Hill's take on the tune, dramatically different than Kershaw's stone cold country approach, illustrates the power and magic to be found in different artists' individual interpretations of the same piece. The album closes with "Thanks for the G Chord," in which Hill pays moving tribute to his father's love and influence.  Gravity combines the best of "New Age" sensitivity and down home country simplicity. Its sparse, acoustic sound is a welcome respite from the wealth of over-produced albums issued on Music Row today.
COUNTRYCALIFORNIA.COM
– by John Maglite
Hill's warm, workmanlike voice – which often recalls Don Williams – wraps itself around songs about love in all its various phases. Sometimes, he's falling head over heels – looking at his lover through "Eyes of Wonder," marveling at his own giddiness ("That's What Love Will Make You Do"), or realizing that his days of searching are over ("Love's in the Here and Now"). More often, he plays the confounded and the left-behind. He wishes he had left a "Trail of String" when he walked out on her, dreams of locking a cheater up for her "Serious Crime," goes into a post-breakup nosedive on "Gravity"…..Throughout, the instrumentation is tastefully sparse, a mix of acoustic guitar, upright bass, fiddle, mandolin, dobro, and harmonica in which every note means something and the playing is sharp but never showy. The music accents rather than overshadows Hill's smart, unadorned lyricism and natural sense of melody. It might not be great driving music, but it's perfect for a lazy day in the hammock.
SMALANDS COUNTRY CLUB
– by Christer SjöbladVimmerby, SWEDEN, 2001
Many times you hear a song, like it, like the artist, but you don´t think about who the songwriter is. Of course the real country fans do, but maybe not "normal" people. Behind every song is a writer, but he usually doesn´t get the credit he deserves. One of these persons is Byron Hill. I guess that many people who reads this now hasn´t heard of Mr. Hill before, but he has recorded a Cd and written songs for many famous Nashville artists. We at SCC-Nytt (our paper) feel that this great writer deserves to be written about in our paper. Byron is born in Atlanta, Georgia but grew up in Winston-Salem, North Carolina. When he was about 10 years old he learned some Carter Family tunes on his guitar with a little help from his dad. Byron's life was then changed when he heard Johnny Cash sing Kris Kristofferson's classic "Sunday Morning Coming Down" for the first time, this made that Byron now was one with country music. He also enjoyed to listen to Roger Miller & "Hag" among others. During his college time at the university i Boone, N.C. Byron started to try and wrote songs. After some time he got to perform at so called "coffee houses" at the college and finally 1975 Byron got a agreement with ATV music in Nashville, he later moved to Music City 1978. In 1981 Johnny Lee got a No. 1 hit with "Picking Up Strangers", that was Byron first No. 1 song that he wrote. The year after that he got another No. 1 hit when George Strait recorded "Fool Hearted Memory". Now everybody wanted to record Byron Hill songs, some hit songs that now was recorded were: "Nights" recorded by Ed Bruce, "Born Country" by Alabama & he even wrote hit songs for Kenny Rogers & Anne Murray. Byron got to produce Kathy Mattea's first album that was released on Mercury. 1992 Byron got a contract with MCA and the hit songs just kept a comin´. For example: "Lifestyles Of The Not So Rich & Famous " for Tracy Byrd, "High-Tech Redneck" for George Jones, "Politics, Religion & Her" recorded by Sammy Kershaw and "If I Was A Drinkin´ Man" that was a hit for Neal McCoy. Other country artists who´ve recorded songs written by Byron include: Keith Whitley, Tanya Tucker, Gary Allan (he has even helped to produce Garys Cd´s), Randy Travis, Ricky Skaggs, Conway Twitty and Mark Wills. Yes the list can go on forever. In 1998 Byron signed a contract with Starstruck Writers Group (that was sold to Warner Music Group in Oct.-2000). Right now he´s active with writing songs for Toby Keith and John Michael Montgomery will record a Hill song on his next Cd; "Thanks For The G Chord". Byron has released an own Cd with 14 songs on his own label. "Gravity & Other Things That Keep You Down To Earth". On it he sings some new songs he´s written with the help of very good musicians. They include: B James Lowry (guitar), David Hungate (bas), Aubrey Haynie (fiddle & mandolin), Sonny Garrish (dobro) and Jelly Roll Johnson (harmonica). This is a good CD that really deserves to be in every country fans collection. Many times famous songwriters sing their own songs, but usually they´re not so good, but Byron here is REALLY a good singer! So if you find this Cd you should buy. Most of the best Nashville artists have already recorded a Byron Hill song. So remember the name.